Climate Change
If Global warming is true, then how much of it is natural, rather than us humans? Volcanic eruptions and a weak magnetic field may be significant contributors. There are numerous articles on the Earth's magnetic field, e.g. the following: Global warming and magnetic field
A supposedly 'anti-establishment' climate change activist and vaccine critic was the Kennedy clan member ROBERT F. KENNEDY Junior. But whose side is he really on? He publicly criticised Bill Gates' alleged 'green' credentials in an article in Feb 2021, writing:  "To cloak his dystopian plans for humanity in benign intentions, Gates has expropriated the rhetoric of "sustainability," "biodiversity," "good stewardship" and "climate"…It's baffling to me how so many of my friends in the environmental movement have swallowed Gates' chicanery. In my 40 years as a climate activist, I saw zero evidence of Gates' funding of genuine climate advocacy; the Gates Foundation is AWOL in the climate wars." ("Bill Gates and Neo-Feudalism: A Closer Look at Farmer Bill", "The Defender", Feb 4th 2021).
But this reminds me of George Soros' criticism of FACEBOOK and its' CEO, Mark Zuckerberg, which – on the surface – gave Soros some 'street credibility' he didn't deserve, and which was a prelude to the inevitable 'cleansing' and increased regulation of social media. Bill Gates will be tamed, I believe, just as Capitalism is being tamed in the Ruling Elite's planned merger of Capitalism with Socialism; right-wing with left-wing. Cue the UN, World Bank, etc.
Kennedy made a career as an environmentalist and environmental lawyer, e.g., he was Senior Attorney for the NRDC (Natural Resources Defense Council), an organisation founded with money from the Ford Foundation, and of which an early board member was LAURANCE ROCKEFELLER Junior, who became a trustee. A NRDC co-founder was James Gustave Speth, a Rhodes Scholar; founder of the WORLD RESOURCES INSTITUTE; Administrator of the UN Development Programme. 
Kennedy and Arianna Huffington ("The Huffington Post") teamed up in 2003 for a green campaign that challenged American car companies to clean up their act: "The Detroit Project", whose co-founders were Arianna Huffington and the following 3 Jewish environmental activists:
1) LAURIE DAVID – married the famous Jewish comedy writer/actor LARRY DAVID. She was a trustee on the NRDC and a contributing blogger to "The Huffington Post". Before working full-time on environmental and political issues, David worked in the entertainment industry. She began her career in New York City as a talent coordinator for the "Late Show with David Letterman". She left to start her own management company, representing comedians and comedy writers. She also produced several comedy specials for HBO, MTV, and Fox Television. She became vice president of comedy development for a division of Fox Broadcasting and developed sitcoms for 20th Century Fox Television. Laurie David worked with the 'green' US Vice President AL GORE by co-producing Al Gore's Academy Award-winning 'global warming' film documentary "An Inconvenient Truth" (2006), which has a few more Jewish connections, e.g. the film's co-producer SCOTT Z. BURNS (worked for many years at a Jewish Summer Camp) who worked at the NRDC, through which he met Huffington and Laurie David and Al Gore, hence the movie. Burns wrote screenplays for "The Bourne Ultimatum" (2007), "The Informant!" (2009), and "Contagion" (2011), all of which feature the actor Matt Damon. Public interest in Burns' 2011 film "Contagion" renewed during the COVID-19 pandemic.
2) LAWRENCE BENDER – CFR member; American film producer; produced several of Quentin Tarantino's films. Bender served on the Advisory board of "The Creative Coalition", a bunch of politically-minded people from the entertainment world (e.g., Alec Baldwin) who said "We wanted to get beyond celebrity-in-politics tokenism and photo-ops to move inside the political process – to actually help shape policy." (see their website). The Creative Coalition's primary co-founder was the Jewish Zionist actor RON SILVER (CFR member) whose Zionism included co-founding the organization ONE JERUSALEM to oppose the Oslo Peace Agreement and to maintain "a united Jerusalem as the undivided capital of Israel". More relevant, Bender was a "An Inconvenient Truth" co-producer and co-producer for the film's sequel, "An Inconvenient Sequel: Truth to Power", of which the latter was co-produced by eBay President JEFF SKOLL (Jewish).
3) ARI EMANUEL –  an American businessman and the CEO of ENDEAVOR, an influential entertainment and media agency. In 2015 Ari met with Pope Francis, who had invited several of Hollywood's most influential people – many of them Jewish – to discuss the image of the Catholic Church in Western media. Reps of the Pope approached the 2 Jewish CEOs (Ari Emanuel and Patrick Whitesell) of Endeavor to arrange a meeting at the Vatican. Ari Emanuel had a long-standing relationship with US President DONALD TRUMP, serving as Trump's agent.
Ari Emanuel belonged to a family of high achievers. His politician brother, RAHM, was the first Jewish mayor of Chicago and a high ranking member of the Democratic Party, where he served under Barack Obama as the White House Chief of Staff. Previously, Rahm had been a senior adviser to President Clinton. According to The Washington Post,  Donald Trump gave $50,000 to Rahm Emanuel's mayoral campaign in 2010 in spite of their political differences. Trump said, "I like Rahm, I've always liked him as a person, and more importantly, Ari, his brother, is my agent."
Ari's father, Jerusalem-born Dr. Benjamin M. Emanuel, was a pediatrician who was active in the IRGUN, a hardline Zionist paramilitary group that operated in Mandatory Palestine during the 1930s and 1940s.  Irgun was branded as a terrorist organisation by the British colonial authorities and by the UN and US government. Benjamin M. Emanuel allegedly passed "secret codes" to the future Israeli PM Menachem Begin.
Ari's prominent and controversial medical brother EZEKIEL EMANUEL (member of the Council on Foreign Relations) was an oncologist and one of America's most influential bioethicists (BIOETHICS is the study of the ethical issues emerging from advances in biology and medicine). During the Covid pandemic, in November 2020, President-elect Joe Biden named Ezekiel Emanuel to be one of the 16 members of his COVID-19 Advisory Board. 
I say more on Ezekiel in my article "Eugenics and Bioethics", in the Science section. 
Returning to "An Inconvenient Truth"; it was directed by DAVIS GUGGENHEIM, whose father was Jewish. Not long before the Covid pandemic was officially announced, Davis Guggenheim created and directed a documentary web TV miniseries about Bill Gates – mostly positive – titled "Inside Bill's Brain: Decoding Bill Gates". The series focused on his charity work with the Bill and Melinda Gates Foundation. The series was released in September 2019 on Netflix. Guggenheim enthused about Gates in a "Vanity Fair" magazine interview: "…in this really chaotic, dark time where there's so much uncertainty, there's so few people who sort of give me clarity. It's very comforting that there's a guy like Bill out there. I don't know if he's gonna succeed, but the fact that he's putting so much intelligence and money and influence on some of these really tough issues makes me feel better. It makes me feel more optimistic about the world." ("Vanity Fair" article, "Bill Gates Is Saving the World, One Toilet at a Time", by JOY PRESS, Sept 16th 2019).
One of the "An Inconvenient Truth" production companies was "Participant Productions", whose founder and chairman was the Jewish President of eBay, Jeff Skoll.
Returning to Robert Kennedy Junior; he was once named one of TIME magazine's "Heroes for the Planet". He was a guest speaker at the climate change public forum called CLIMATE ONE. Climate One supporters included FORD MOTORS; SHELL.
Other notable guest speakers at Climate One included:
FORD Motor Co. Chairman WILLIAM FORD junior;
Former US Vice President AL GORE;
GOOGLE Chairman ERIC SCHMIDT;
SIERRA CLUB Executive Director MICHAEL BRUNE;
JOHN PODESTA, Former Chief of Staff to US President Bill Clinton; Counselor to President Barack Obama, where he was responsible for coordinating the administration's climate policy and initiatives; member of the U.N. Secretary General's High-Level Panel of Eminent Persons on the Post-2015 Development Agenda; founder and inaugural President of the 'center left' think tank The CENTER FOR AMERICAN PROGRESS (CAP), of which a senior fellow was Ezekiel Emanuel;
Former U.S. Secretary of Defense, CHUCK HAGEL;
Former CEO of BRITISH PETROLEUM, LORD JOHN BROWNE; UK chairman of Huawei Technologies, though he quit just before the UK government banned Huawei's involvement in the UK's 5G infrastructure. Browne was chairman of L1 Energy, founded by the Jewish-Russian business magnate Mikhail Fridman who also held Israeli citizenship. According to FORBES, Fridman was the seventh richest Russian in 2017. In May 2017, he was also ranked as Russia's most important businessman by BNE IntelliNews. Fridman belonged to the American CFR (Council on Foreign Relations) and he co-founded the Russian Jewish Congress; and the Genesis Philanthropy Group, which supports Russian-speaking Jews worldwide. 
DANIEL YERGIN –  Pulitzer Prize-winning Jewish writer on energy; CFR member; co-founded Cambridge Energy Research Associates. His father Irving Yergin was a personal assistant (in Public Relations) to the Jewish head of WARNER BROS, Jack Warner. Daniel Yergin served under Donald Trump in an advisory economic panel, as noted by "The Jewish News" in 2016:  "President-elect Donald Trump named Stephen Schwarzman, a leading money manager and a contributor to Jewish and Catholic causes, as chairman of a group of leading businessmen who will advise him on economic policy…He is one of at least six members of the 16-member board who are Jewish or who have Jewish ties". ("Trump names Jewish billionaire to head economic team", By JTA, Dec 4th, 2016). Schwarzman founded the BLACKSTONE GROUP. Other Trump panelists included: JAMIE DIMON (chairman and CEO of JPMorgan Chase); ROBERT IGER (DISNEY CEO); LARRY FINK (BLACKROCK chairman); MARK WEINBERGER (chairman of ERNST and YOUNG; honoured with the 2012 Anti-Defamation League Achievement Award); JACK WELCH (GENERAL ELECTRIC CEO/chairman).
And finally, last of the CLIMATE ONE guest speakers is…
DEEPAK CHOPRA – prominent New Age author. Chopra and businessman Rinaldo Brutoco co-founded Just Capital, an organization dedicated to helping executives of financial institutions and members of the public sector make sustainability a number one priority. Rinaldo S. Brutoco co-founded the New Age WORLD BUSINESS ACADEMY, of which more is in my article in the Think Tanks section.
A major UN climate change conference took place in 2021 in Glasgow, titled COP26. The widespread mass propaganda associated with COP26 extended to one of my local food supermarkets. During the conference, in November, I heard a recorded interview about COP26 in my local CO-OP shop, broadcast through the shop's public tannoy, in between music. The interview was conducted by a CO-OP rep who asked a climate change 'expert' about the importance of COP26.
CO-OP shops are owned by the CO-OPERATIVE GROUP, a British consumer co-operative that manages its own family of retail businesses including food retail and wholesale; e-pharmacy; insurance services; legal services and funeral care.
An influential but not well-known British weather bureau was openly political, as well as being a climate change promoter/activist, which to me compromised their supposed scientific impartiality. Although not as well-known as the UK government's Met Office,  BWS (British Weather Services) were – in 2022 –  the UK's longest established 'independent' meteorological company and had numerous mainstream clients, including the BBC. 
BWS was openly opposed to Boris Johnson and the Tories, and to much of what they did, including Brexit. So much for independent science. BWS' Twitter profile description in 2022 included this: "Johnson is a lying narcissist!" 
A pinned tweet at the top of the BWS Twitter feed in 2022 said:  "It is absolutely plain that we are now too late to stop catastrophic global impacts of #climate change. Sorry to say it, but over the next decade and more, there will be strife, there will be chaos, there will be blood! Plan & prepare!"
Here's the link: https://twitter.com/BritWeatherSvs
BRITISH WEATHER SVS (@BritWeatherSvs) / Twitter 
Note the imagery in their title page : a spider at the centre of a web, and one eye at the centre of the world.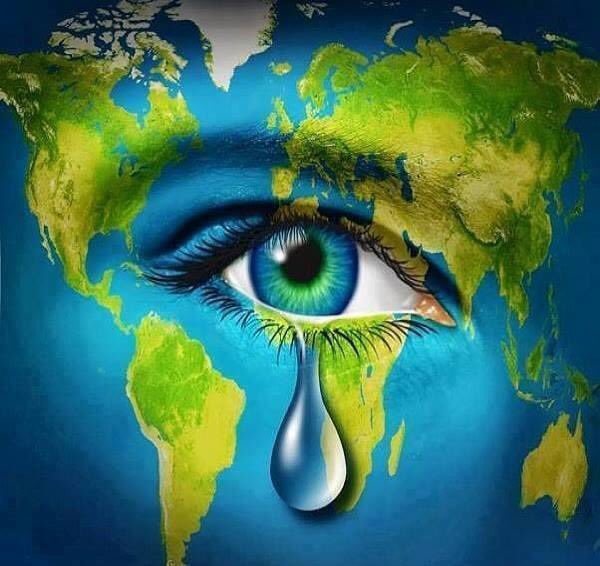 Their Twitter feed was littered with crude, blatantly anti-Tory comment, including this on June 27:
"According to several scientific studies, people who vote Conservative have by enlarge [sic – it should be "by and large"], lower IQs & fewer qualifications than those vote [ sic – they omitted the "who"] to the contrary. Which answers so much about why we are where we are."
Were BWS aware of their poor English?
BWS also promoted the mainstream line on Covid-19. They retweeted the following comment on Covid on June 26th: 
"FightingAnne1 @FightingAnne1 
"The Tories talk about beating COVID but we have 178,000 dead and are well into another wave. All they've done is stopped all testing and reporting and pretended it's gone away."
BWS Clients have included BBC News 24, Channel 5; Sky News; Daily Mirror; BBC 4; LBC; BBC R5 Live; betting companies (e.g. William Hill). BWS claim that they have been "trusted by the legal fraternity for over three decades". 
The BWS founder, JIM DALE, spent much of his early career in the British Royal Navy as a meteorological observer at the Royal Navy's School of Meteorology & Oceanography. He served as a meteorologist in the Royal Navy's Fleet Air Arm during the early to mid 1980′s, including two spells in and around the Falklands & South Georgia. Dale formed BWS in 1987.  
Dale wrote: "I also write weather-related features for the press media and provide comment in the press and on radio and television. I am pleased and honoured to be one of the UK's most respected consultant global meteorologists. Companies I have worked for and with include -: Bet 365, Bloomberg, Reuters, Ford World Rally, Asda, TNT, UKMail, Stoke City, Wolverhampton Wanderers FC & Middlesborough FC, The Mirror, Sky TV, BBC TV, BBC Radio 5 Live, Channel 5, Red Bull Air Show, Jordan Formula 1GP"
Dale's opinion on the hot weather in Europe in June 2022 was sought by the British daily national newspaper, "Express": 
"Senior meteorologist for British Weather Services Jim Dale blamed climate change as the reason for the extreme heat in European parts of the world."  (Daily Express article June 27th 2022, "Europe heatwave: Scorching temperatures in France and Spain to trigger 30C sizzler in UK", By VICTORIA CHESSUM, Mon, Jun 27, 2022)
https://www.express.co.uk/news/weather/1631749/Europe-heatwave-latest-uk-weather-forecast-france-spain-heat-map-july-summer
https://www.express.co.uk/news/weather/1631749/Europe-heatwave-latest-uk-weather-forecast-france-spain-heat-map-july-summer 
On the BWS website, in 2022, they explained their not-very-impartial views: 
"Where we hold fundamental views such as the very real threat of man-made climate change, we will not shirk from our role of informing and placing our views on record – and that includes the economies-of-the-truth with concern to climate change, spread by political organisations and individuals such as the US Republicans, Donald Trump, Boris Johnson, Jacob Rees-Mogg, The ERG, UKIP, Brexit, Nigel Farage, Nigel Lawson, Charles Moore, Piers Corbyn, The Daily Mail and others, in attempting to deny that man-made climate change even exists."
Dale wrote a dramatic article in his "Linkedin" account in 2022:
"THE WEATHER IS CHANGING & YOU NEED TO CHANGE TOO!" (Feb 5th 2022)
"We all now know and most of the sane world accepts that the world's climate is changing and we must all move to mitigate future temperature rises by limiting fossil fuel usage and other measures.
"However, and it's a BIG however; anything we do now and for the next 20-30 years will be too late to stop the weather wreaking havoc and destruction, both in a slow and measured way and also with sudden and unyielding ferocity. WE ARE TOO LATE! We have to plan now, organise and become educated in knowing how to best protect ourselves from all elements of extreme weather – both in terms of the short and longer term impacts. It's of little use waiting and fiddling whilst 'super natural forces' gather and suddenly unleash their venom upon us. That will only end in greater pain.
" It's of little use waiting and fiddling whilst 'super natural forces' gather and suddenly unleash their venom upon us. That will only end in greater pain.
"Believe me when I say that this is the immediate agenda and that climate mitigation is the slow burner (a slow cooler more like) that is wholly worthwhile pursuing for a better more stable further in decades and centuries to come, but for now the focus has to change.
"For me, I know where my focus and that of British Weather Services will largely be over this coming few years, that is assisting those to best prepare for the cataclysms yet to befall. Yes, we all have to continue to lead our lives much as we are now with some wise changes, but the caveat has to be manoeuvring ourselves as best and intelligently as we possibly can – to be that much safer and more secure, in a fast changing world that will hold no prisoners!
"You have been warned!"
Part of Dale's plan for mitigating climate change is his company "Acclimatised Ltd", which claims to assist companies and domestic households to become net zero & environmentally sound. 
Another BWS employee was the former BBC TV weather forecaster JOHN KETTLEY who served for 30 years with the UK Met Office before going freelance. He appeared as a talking head for a "Channel 5" documentary on the legendary British heatwave of 1976, aired on June 18th 2022, coinciding with the aforementioned European heatwave. The documentary ("Heatwave: Summer of '76", produced by ITN) was repeated again in early July (5th) when Britain was itself forecasted to have a mini-heatwave in July 2022 (predicted to be from 8th to 19th July). Did Channel 5 and ITN know what was to come?
In the documentary, Kettley didn't mention climate change, and indeed there was no banging of the drum on climate change, except for the end when it was inferred that it was probably the cause of the '76 heatwave.
A sci-fi novel written by the BBC science broadcaster JIM AL-KHALILI revolved around the possible effects of a weakening of the Earth's magnetic field, such as extreme weather. "Sunfall", published in 2019 (just a few years before the 40-degree weather experienced for real in the UK in 2022) includes 40-degree weather for 3 consecutive days in Britain in the year 2041, caused by a weak magnetic field that allows cosmic rays and sun bursts to interfere with the Earth's weather.
I'm not sure of Al-Khalili's true motives, because of his position at the BBC and because he is a frequent commentator about science in other British media. He was vice president of the prestigious British Science Association; has an OBE and CBE and was President of HUMANISTS UK. When he interviewed on BBC Radio 4 the UK Government's Chief Scientific Adviser, SIR PATRICK VALLANCE, over his contribution to the coronavirus pandemic, Al-Khalili gave him an easy interview and agreed with Vallance that there needs to be more experts in politics and with more power.
Without spoiling the plot too much – I hope – Al-Khalili's novel involves an end-of-the-world religious cult who try to prevent scientific attempts to kickstart the magnetic field. Artificial Intelligence also features in the novel, which is significant because Al-Khalili, on becoming President of the BSA (BRITISH SCIENCE ASSOCIATION), had chosen AI as his campaigning topic at the BSA's British Science Festival in 2018, just before his novel was published. Al-Khalili is a fan of AI, but wants it to be regulated by academics and governments, rather than left in the hands of unregulated, powerful capitalist companies. Perhaps he will demonise those who oppose AI as religious fanatics, terrorists, etc.
The BSA's partners included the WELLCOME TRUST. The BSA was administered from the Wellcome Trust-sponsored Wellcome Wolfson Building at the SCIENCE MUSEUM in London.
More to come…